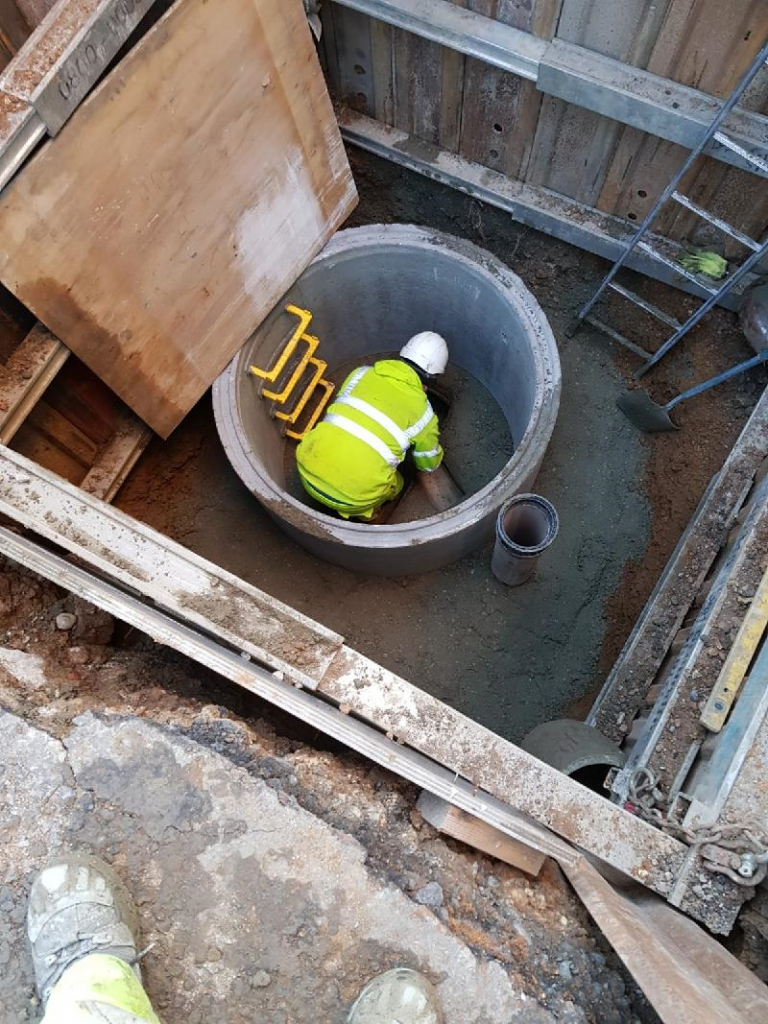 Proceeding with a project in the right way, meeting all standards and following processes to the letter, is the best way to save time and money on site – and that includes sewer connection.
Naturally, we take care of all legislative and best practice requirements when we carry out a sewer works, whether we're redirecting a drain so an extension can go ahead, doing remedials on a commercial site, or working with a developer on a new-build drainage system.
Here we share our sewer connection legislation knowledge, so that you can easily understand what we do, and get an idea of 'what good looks like' when choosing a sewer connection contractor.
Sewer connection legislation
Keep reading for an overview of the legislation that's relevant to sewer connection works:
The Water Industry Act 1991
Chapter II Provision of Sewerage Services, Part IV (Sewerage Services) of the Water Industry Act 1991 is key to sewer connection works. During a project, you're most likely to hear about or engage with:
Section 102 – Adoption of sewers and disposal works
The S102 process allows a developer or property owner to apply to the local water authority for the adoption of an existing private sewer. This can sometimes apply to new developments when the new sewers have been installed and come into use before an S104 agreement has been signed.
Section 104 – Agreements to adopt sewer, drain or sewage disposal works, at a future date
S104 relates to the adoption of new sewers by the local water company. A developer agrees to build sewers to a specified standard (according to Sewerage Sector Guidance – which replaced 'Sewers for Adoption' in April 2020), and the water company agrees to adopt the new sewers after completion.
An S104 application must be made before your sewerage contractor begins on site. You will need to provide detailed information about the design and construction of the new sewer, and how it connects to the public sewer.
Section 106 – Right to communicate with public sewers
S106 sets out that the owner of any domestic property is entitled to have foul and surface water from their property connected to the public sewerage system. To comply with the legislation, it's essential to gain permission to connect to the public sewer from the appropriate water company, by way of an S106 application. Private connections that aren't approved are unlawful (and an offence under Section 109).
You may well hear the term 'Section 106' used in a Planning Section 106 agreement, however, this is unrelated to sewer connection works and instead refers to private agreements made between local authorities and developers during the planning process.
Section 107 – Right of sewerage undertaker to undertake the making of communications with public sewers
If there are any special circumstances that apply to the site in question, S107 may apply. This enables water companies to carry out the site works themselves should they deem it necessary. WaterUK outlines these special circumstances as:
The work required is technically complex, bespoke, or carried out infrequently (such as a connection to a trunk sewer or pump station)
The works are close to land with specific environmental, historical or archaeological characteristics
Where the construction method is known to be affected by the water authority's need to protect their assets or interests
New Roads and Street Works Act 1991
Part III (Street works in England and Wales) of the New Roads and Street Works Act 1991 is likely to be relevant to many sewer connections, since 90% of public sewers are located in a highway.
Where works mean that a road (or footpath, or verge) has to be dug up, a Section 50 (Street works licences) application will be needed. Your sewerage contractor will take care of this for you; to do this they must be NRSWA accredited and hold £10m public liability insurance.
The first step is to obtain utilities drawings for any apparatus in the highway in the relevant dig site, while the subsequent application involves aspects such as a site plan detailing the works, a traffic management proposal, and the S106 approval document.
Construction Design and Management Regulations 2015
All construction sites need to comply with the Construction Design and Management Regulations 2015, and sewer connection works are no exception. This legislation ensures that works are sensibly planned, risks are managed, and the right people are available for the right job at the right time.
The Health & Safety Executive publishes a useful guide to these regulations, aimed at clients, to explain their role and responsibilities during works. Although, it's worth noting that if you're a domestic customer, your only obligation is to appoint a principal designer, and a principal contractor, should there be more than one contractor involved.
Confined Space Regulations 1997
Working in trenches (or with dig-and-push methods, or timber headings) involves working in confined spaces. The Confined Space Regulations 1997 provide guidance on how to work safely in confined spaces, including setting out likely hazards and suitable precautions. Through a full risk assessment, we are proficient at ensuring a safe system for working in even the most challenging environments.
Sewer connection legislation is complex, so our overview really is just that – depending on site circumstances, other regulations may apply. If you have any specific questions about the legislation that might be applicable to your works, and how it will affect your build, please email [email protected] or call us on 01268 950050.